Automata Executive Chairman and Director of Corporate Development (EMEA) Joe Stringer on why he's joining Automata
Every career choice should be based on tuna pasta
Automata Executive Chairman and Director of Corporate Development (EMEA) Joe Stringer shares his passions, career journey, and reasons for choosing to join Automata at this exciting state of growth. View Joe's original post on his LinkedIn profile here.
I blame the parents. Having children does funny things to you. Before you know it you start saying a bunch of things to them that when you first heard them as a teenager you thought were just some meaningless cliches. You find yourself driving them back from the 10th sports fixture of the week saying things like "Do what you love", "Life is short", "Follow your passion", or, if you are a true self-help addict, "Get into the arena" and "Start with your Why".
I thought I was saying the right thing as an enthusiastic parent, but eight years ago something quite fundamental happened; my mum lost her ten year battle with breast cancer. This was despite having some of the best treatment that the modern world could throw at it, courtesy of the Royal Marsden NHS Foundation Trust – an organisation that she had previously dedicated over 30 years of her career to as a data manager in the paediatric leukaemia unit. Losing your first parent is bloody hard, in the case of my dad it was to a series of lifelong chronic conditions, but you tend to channel all of the grief and energy into the one that is left – in this case my mum. Losing the second does something profound, particularly when it was so early for them both.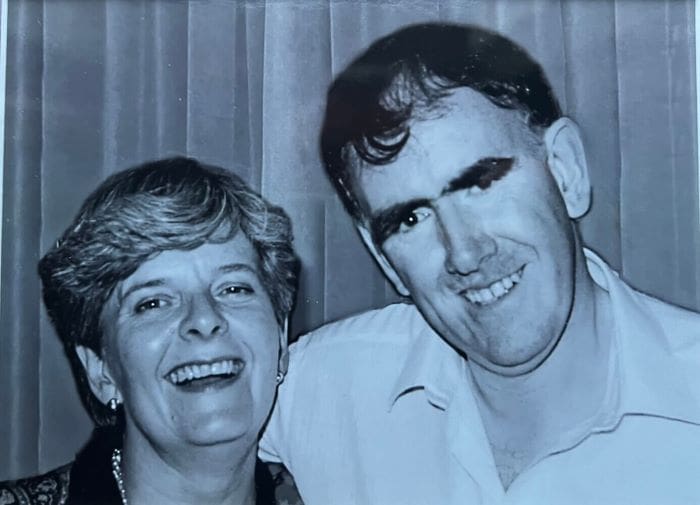 Every hour becomes more precious, the stakes for doing what you want to get done get higher every year, and most importantly, you realise that parenting by talking is ok, but there is nothing like stepping up and living what you are so often preaching. So I drank the Simon Sinek Kool-Aid and started exploring my own 'Why?'. Why did I want to work in the final chapters of my career? (In my opinion, paying the bills is never a sustainable motivator).
This is when you realise how powerful your parents' behaviours are. Growing up I saw first-hand, every evening, how important the NHS is. I could tell if one of the patients on mum's ward had been given days to live; how frustrated she was with ploughing through reams of hard copy data to find the right treatment protocol, but also how much joy it gave her when things went well and a young life had been given new hope. A childhood of hearing her complain about 'bloody doctors', combined with a fortnight of work experience shadowing one of the Marsden surgeons was enough to show me I didn't want to be a medic as I wasn't nearly scientific enough, but also showed me a sector where outcomes really, really mattered. I've been hooked ever since.
I started out doing what came quite naturally in an industry I loved – management consulting. Being ready to be called upon as a substitute or additional brainpower to help solve some knotty problems, sometimes you were very welcome, sometimes not. But like many who have walked that path before me, you can only spend so much time advising from the sidelines. When you see the NHS reorganisation and funding movie repeat itself for the fifth time you start to become fairly disillusioned with what you are doing, whilst trying to convince your children that you love it.
After a lot of soul searching and research into some of the incredible developments happening in other sectors, my 'why?' was staggeringly clear; I wanted to spend the rest of my career trying to improve as many lives as possible using healthtech. The what and the how didn't matter for the time being. Provided I could make a clear link between everything I did from now on to that north star, I knew that I'd have a lot more fun and be able to use the same cliches with my grandchildren with a lot more authenticity. I also started to realise there was a rapidly growing movement of people all thinking the same thing – and I wanted to be part of it, not just talking about it.
As is often the case with midlife career changes, it was absolutely terrible timing. I had a comfortable corporate salary, mine was the only income, and it's fair to say our financial commitments had never been higher. But when mortality suddenly starts tapping you on your shoulder, amazing things can start to happen. You start to realise that we all exaggerate risk when it comes to things like starting a new business, but – as millions of people this year will tell you – we also tend to completely underestimate the risk of just having what feels like a secure job in a large business. Either way, I took the plunge.
As an aside, watch this and then come back to me on the topic of taking risk!
I shall spare you the full biography of the last five years. The high points were starting in the time-honoured fashion with a small team around a kitchen table, putting every penny we had on the line to start TenX Health, a healthtech VC fund. With the blissful naivety of any well intentioned startup, we conducted a world tour, chasing anyone that vaguely resembled an investor, and in doing so learning more about the flows of private finance than I ever thought I'd need to. This process allowed me to meet and collaborate with some of most generous and giving people I have ever had the joy of working with (Shannon, James, Dennis, Denis, Simon Pavitt, Michael, Pooja, Jess, Zoe), and perhaps most importantly, it eventually allowed me to invest in some incredible founders like Mohit, Mostafa, Chris, Sophie, Krish, Neil, Nick, Nicc, James to help them start to improve lives of millions of people around the world.
But there have been plenty of lowlights. Finding out, on Christmas Eve, that I owed HMRC a six-figure sum because of a 'mixup' when leaving big four accounting firm Ernst & Young (the irony) which meant we had nine months less runway than planned. Nearly losing the house twice. Joining and leaving Google during the COVID-19 pandemic without ever setting foot in their amazing Kings Cross office. Getting 'acquired' by an entrepreneur only to realise that the last thing they wanted you to be was entrepreneurial. And being forced to part ways with people you embarked on the crazy journey with because the world had other plans.
During these times it wasn't the clarity of ambition or business plan that kept me going, it was a question from my daughter that reminded me that in the grand scheme of things, none of it really mattered. At the age of six I tried to explain to her why daddy was a little stressed and paying for some of the treats we had got used to was quite hard – to which her response was "but will we be able to still eat tuna pasta?". So not the 20-item Christmas list or latest pair of trainers. No, just tuna pasta, "food of the gods" according to my son.
I hate to burst any egos out there, but provided you are there for your family and show them unconditional love, the only person that actually cares about your job, your income, or the next lot of crap you think you need to buy, is you. The only judge of success when you retire is you, not LinkedIn.
So why am I saying all of this now? Well, for the first time since 2018, the stars have started to align. I left Octopus Ventures three months ago to embark upon a portfolio of new roles across the whole spectrum of healthtech. I am a non-exec with Holland & Barrett, helping them on their incredible transformation to add "quality years to life" with things like health diagnostics at home, biological age scoring and issue-based, science-backed nutrition. I have continued investing, this time with a £500m fund to help to fill the enormous gap in growth stage impact capital and VC fund of funds in UK and European healthtech. At the other end of the investment spectrum, I am also still helping some brilliant earlier-stage companies to scale as quickly as possible so they can improve as many lives as possible – Music Health, Mettle, Ufonia, Tympa, Symbiotex, and Mango Sciences.
But the news I am most excited about happened most recently – I have joined Automata, going from being an investor on the board with Octopus, one of their investors, to jump in alongside Mostafa and the rest of the team as Executive Chairman to help drive this next phase of their incredible journey.
Anyone in health and life sciences who has ever strayed into a lab will tell you that other than discreet steps in the sceitnific process, not much has changed in about 100 years; you will see benches, liquids, consumables and most importantly, highly qualified scientists who spend more time doing manual handling and logistics than on what they should actually be doing – designing experiments and analysing the results.
We are used to seeing automation in almost every other sector you can think of – retail, consumer goods, automotive, energy – except the one where it can make the most difference! Maybe it's the inner supply chain geek in me that loves the business, or perhaps it's the ex-management consultant seeing a business case that would melt even the most optimistic of McKinsey 'scenarios'. Either way, what I do know is when I introduced them to the NHS Trust closest to my heart (Royal Marsden) last year, this is what happened. Seeing their reaction to how many more cancer patients would receive their life-changing results in a fraction of the time, I knew how my mum would have felt. How excited she'd have been to get stuck into the petabytes of high-quality data that Automata is helping to create for its customers. And that has pushed me to support the business as much as I could ever since.
No matter how hard they try or what they say, the majority of generic VC investors will only ever be more excited by cap tables and share preferentials, and unless they are prior founders or have raised their own fund they will never know what it's really like to be 'in the arena'. The itch to roll up my own sleeves became too hard to resist
It's funny how the stars align – the NHS, the Marsden, healthcare, running your own business to follow in my dad's footsteps – these have never been conscious choices, but they were obviously instilled so subconsciously I just didn't know it at the time.
So thank you to my parents, and to Mostafa and the whole Automata team for welcoming me into this phase of what will be an incredible journey, I can't wait to get stuck in. And to anyone out there reading this feeling like you are in a 'comfortable job' with not a lot of meaning, you are seriously missing out (oh, and just be careful with how you describe what you do to your own kids, they are always watching!).