Easily automate cell culture, preparation, and analysis
Spend less time cultivating cells and collecting data and more time making breakthroughs with automation by LINQ
Automata love a challenge, and they let the science drive their engineering which is absolutely key. We found that with other companies, they would not bend their engineering for our science, yet the science is the most critical thing when it comes to biotech
Trusted by top labs
In order to meet today's growing demand, automation is critical for empowering cell culture labs to scale. Yet automation in most labs is typically limited to single benchtop instruments, like liquid handlers.
This kind of automation, which still involves manual touchpoints, not only limits the productivity and results that can be achieved, but fails to give the volume, reliability and traceability that high throughput operations need to succeed.
Automata's LINQ lab automation solution can robotically and digitally connect equipment in your existing set-up with minimal disruption, allowing you to automate end-to-end workflows.
Remove manual interactions to reduce errors and contamination risks
Improve the traceability, reliability and repeatability of experiments and results
Eliminate repetitive and laborious tasks, freeing up time that can be spent on higher-value assignments
Integrate equipment from any vendor, using any chemistry
Automate part of or whole workflows – adding and removing processes and instruments whenever you need
Simplify simultaneous experiments with innovative design tools, robust scheduling and deep error handling
An example cell culture media exchange workflow integrated and automated by LINQ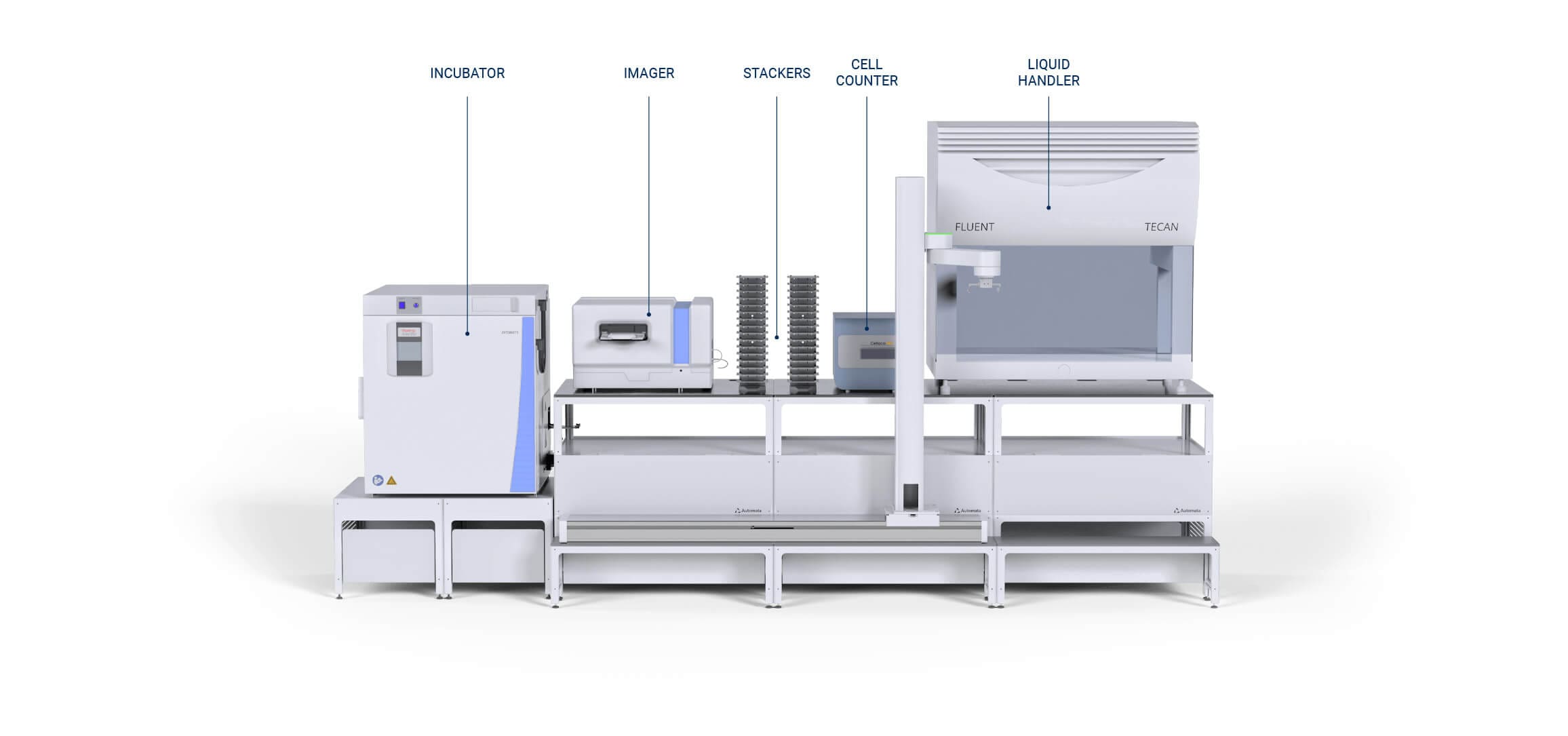 The impact of LINQ
Unlock your potential
Scale your lab's throughput, while you deliver more and better quality data with open, integrated automation.
Unlock your People
Eliminate repetitive manual steps and out-of-hours work empowering your people to focus on what really matters with truly hands-free automation.
Unlock your space
Reap the rewards of lab automation today, without disrupting your current lab space or your existing staff.